Duplex and triplex paper bonding delivers beautifully bold and brilliant multi-layered business cards. Rich in texture and thickness, our collection allows for the unification of a different colour on the back and front – perfect if your branding is multi-coloured and you want to uniquely reflect it!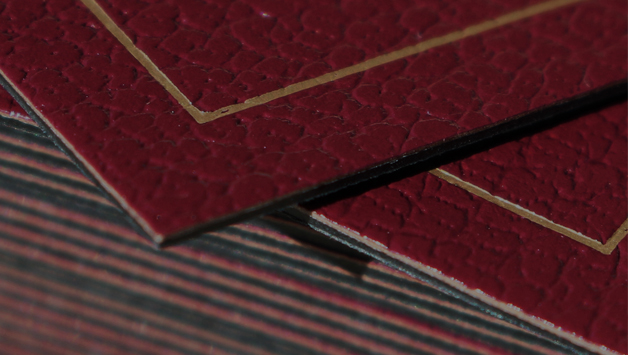 A truly exquisite and rather extravagant way to reflect and represent your business, Inktank's duplex and triplex corporate business card designs are sure to leave the ideal first impression. Our double or tripled-layered paper stocks are exceptionally emphasised when complemented with our elegant finishes like foil stamping, letterpress, embossed and laser cutting.
The edging of the card is given a unique and unforgettable look due the combination of your selection of coloured paper.
THE PROCESS
Duplexing involves two sheets, while triplexing involves three, being bonded and boarded together to essentially create a denser board and you can even go as high as 1200 GSM! This type of business card is truly within a league of its own, its innovation and rich quality giving you that thicker paper stock you've been looking for!
This specialty print process allows you to play upon different textures and colours, exceptionally showcased if you were to opt for an additional laser cut finish on your design to reveal the layers beneath the surface, giving it that dimensional and dramatic appeal.
The duplex and triplex technique gives the opportunity to get super creative and to give your brand business an extra and bespoke touch of personality.
Our duplex and triplex business cards are perhaps one of our most premium collection – a real luxury design/ For beautifully textured and coloured paper options, visit our paper colour ranges or request a sample kit from us today!
Fast printing services with Australia's largest range of paper stocks and finishes at never before seen prices. State of the art printing technologies some more text here.
With state of the art printer machines and with over 100 standard stock options, Giant is the leading option for creative agencies and print service based trade operations. Where others outsource special finishes, Giant boasts every possible finish under one roof as standard- from hot foil stamping, embossing through to state of the art laser cutting and vintage letterpress.