Our foil stamped business cards are available in a wide selection of luxurious German-imported colours including shades of gold, rose gold, bronze, silver, white and black amongst 40+ other standard metallic colour options varying in gloss, matte or satin finishes.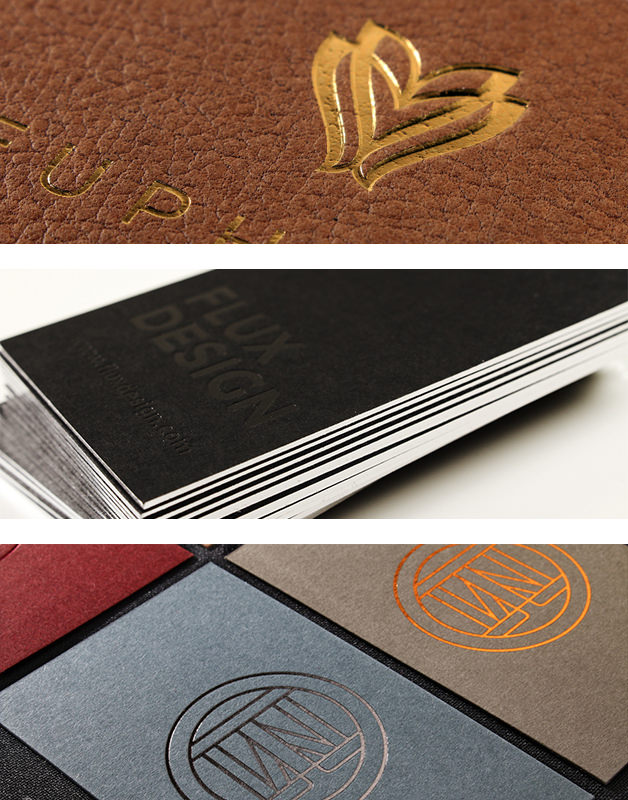 The foil printing technique delivers that shine and shimmer that will be well-received by your clients and connections. Best of all, Inktank are pleased to offer this premium business card design at the lowest possible price within the US. This intricate, state of the art print technique involves a process whereby the foil is applied via a heated metal plate and transferred onto paper.
The finished product delivers a stunning and striking shine that emphasises your custom design and can be ordered online from the comfort of your desk to get you back to the business you're seeking to promote.
INDULGE WITH A SPLENDOR OF CHARMING FOIL COLOURS
Inktank boasts the largest range in the US of foil colours with over 40 shades to choose from

Foil used in application is highest quality available, German imported Kurz® technology

Matte, gloss & satin finish color options available

Our foil colour range swatch will be included in each paper sample kit

For the ultimate expression of luxuriousness and style, try our gilded foil edge finish
EXCEPTIONAL RANGE OF PAPER COLOURS TO COMPLEMENT YOUR BRAND AND BUSINESS
The Inktank team has searched all four corners of the globe to bring you the most unique and beautifully textured paper in all of the colours and finishes you can imagine. We have impressive and inimitable collections from suede and leather-like, luxe matte, soft plush and organic kraft for you choose from.
Our premium stocks include our signature German imported, 100% cotton blended paper that is soft in touch and available in up to 76PT (3mm thickness) if you want that luxuriously extra thick finish. Order your paper sample now so you can admire the true, indescribable quality of our paper types that can only be done justice by being seen and felt.
The unification of hot foil stamping on our high-end textured, rich paper types will bring to life your lettering and logo. You can further customise your design by customising the shape and size of your card and adding classy complementary finishes such as embossing, letterpress and laser cutting amongst many options.
Please get in touch with us today to order your sample colour swatch!
Fast printing services with Australia's largest range of paper stocks and finishes at never before seen prices. State of the art printing technologies some more text here.
With state of the art printer machines and with over 100 standard stock options, Giant is the leading option for creative agencies and print service based trade operations. Where others outsource special finishes, Giant boasts every possible finish under one roof as standard- from hot foil stamping, embossing through to state of the art laser cutting and vintage letterpress.