---
Shelf talkers are an excellent method of isolating your product from the crowd.
Also known as 'wobblers', they have a unique fun factor, and are a cost effective and easy addition to your visual marketing portfolio.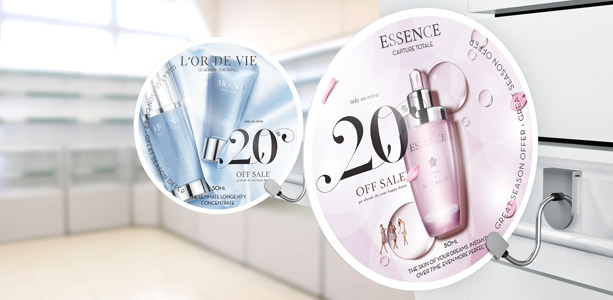 Product saturation has our eyes watering; at the mall, in superstores and even our local coffee shops. Decisions are hard to make, and product differentiation is the key to maximising sales and capitalising on moments of choice for consumers.
Inktank is a one stop shop for all of your print marketing needs, and will make certain that your product stands out from the competition on bland or unimaginative supermarket shelves.
Influence
purchasing decisions
---
A novel strategy used to shout about your product, pricing, or special offers, shelf talkes are easily attached to shelving using a gentle adhesive. These cute 'danglers' are cheap and easy to produce, designed to draw attention to your product, and can significantly raise sales and create awareness of your brand.
When it comes to extensive paper ranges and innovative design, Inktank has the monopoly.
Make your shelf wobbler really stand out with interesting die cut shapes, and choose from a colossal range of colours and paper-types, high gloss, matt satin, premium, textured, tear-resistant or recycled options to name a few.
Check our free downloadable templates below to get your creative juices flowing.

Fast printing services with Australia's largest range of paper stocks and finishes at never before seen prices. State of the art printing technologies some more text here.
With state of the art printer machines and with over 100 standard stock options, Giant is the leading option for creative agencies and print service based trade operations. Where others outsource special finishes, Giant boasts every possible finish under one roof as standard- from hot foil stamping, embossing through to state of the art laser cutting and vintage letterpress.